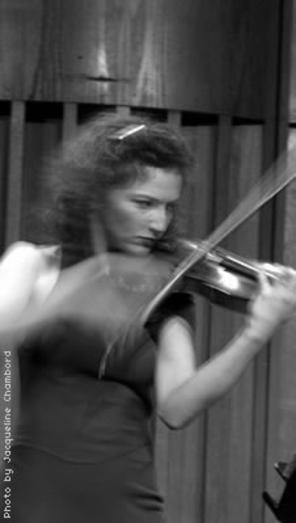 Nurit Pacht performs music of Gustav Mahler and Pulitzer Prize-winning American composer, Aaron Jay Kernis with Sinfonietta of Riverdale conducted by Mark Mandarano.

January 20th at 8:00pm at:
Christ Church Riverdale
5030 Henry Hudson Parkway
(at 252nd Street)
Bronx, New York 10471

February 1 at 6:30 at Merkin Hall in New York City
Arensky Piano Trio with cellist Yari Bond and pianist Irina Nuzova

February 25 at 5 PM at the JCC in Tenafly, New Jersey
Original compositions for violin and guitar performed and composed with Rami Vamos

_________________________________________________________________________________________
The chamber music works of Maurice Ravel and Ludwig van Beethoven are among the best pieces of classical music. This event explores the contrast of sense and sensibility in music, and how the two aesthetics are equally necessary.

Date: Saturday February 24, 2:00pm
Venue: Richmond Main Public Library
Program:
Beethoven – Cello Sonata in C major
Ravel – Sonata for violin and cello
Performers:
Phillip Bush, piano
Khari Joyner, cello
Nurit Pacht, violin
James Wilson, cello

• DATE: FEBRUARY 25, 2018
• TIME: 4:00PM
• LOCATION: 28 WESTHAMPTON WAY, RICHMOND, VA 23173
• VENUE: PERKINSON RECITAL HALL, UNIVERSITY OF RICHMOND
______________________________________________________________
Two stunning pieces for piano trio are contrasted side-by-side: the noble "Archduke" Trio by Beethoven, and Ravel's effervescent Trio in A major.
Date: Sunday February 25, 4:00pm
Venue: Perkinson Recital Hall, University of Richmond
Program:
Beethoven – Piano Trio in B-flat major, op. 97 ("Archduke")
Ravel – Piano Trio in A minor With cellist Khari Joyner and pianist Phillip Bush

~~~~~~~~~~~~~~~~~~~~~~~~~~~~~~~
BAROQUE AT THE WILTON HOUSE
DATE: DECEMBER 10, 2017
TIME: 7:30PM
LOCATION: 215 S. WILTON RD., RICHMOND VA 23226
VENUE: WILTON HOUSE MUSEUM
_______________________________________________
An intimate concert of early Baroque chamber music from England – pieces by John Dowland, Henry Purcell and John Blow. This special event includes a post-concert reception with the performers.
Due to unforeseen circumstances, CMSCVA is relocating the venue for the December 10, 2017 performance, Baroque at the Branch Museum. This concert will now take place at the Wilton House Museum. An outstanding example of Georgian architecture, Wilton is a wonderful historic house dating back to 1753 and built by William Randolph III.
Tickets
Date: Sunday December 10
4:00pm Concert (3:30pm pre-concert chat) A Limited Amount of Tickets are Still Available
7:30pm Concert (7:00pm pre-concert chat) Sold Out

Venue: Wilton House Museum, 215 S. Wilton Road, Richmond.

Program: English Chamber Music by Purcell, Dowland and Avison

Performers:
Jacob Ashbury, violin
Adam Cockerham, lute
Maureen Murchie, viola
Nurit Pacht, violin
James Wilson cello

WATER MUSIC AND CONCERTI GROSSI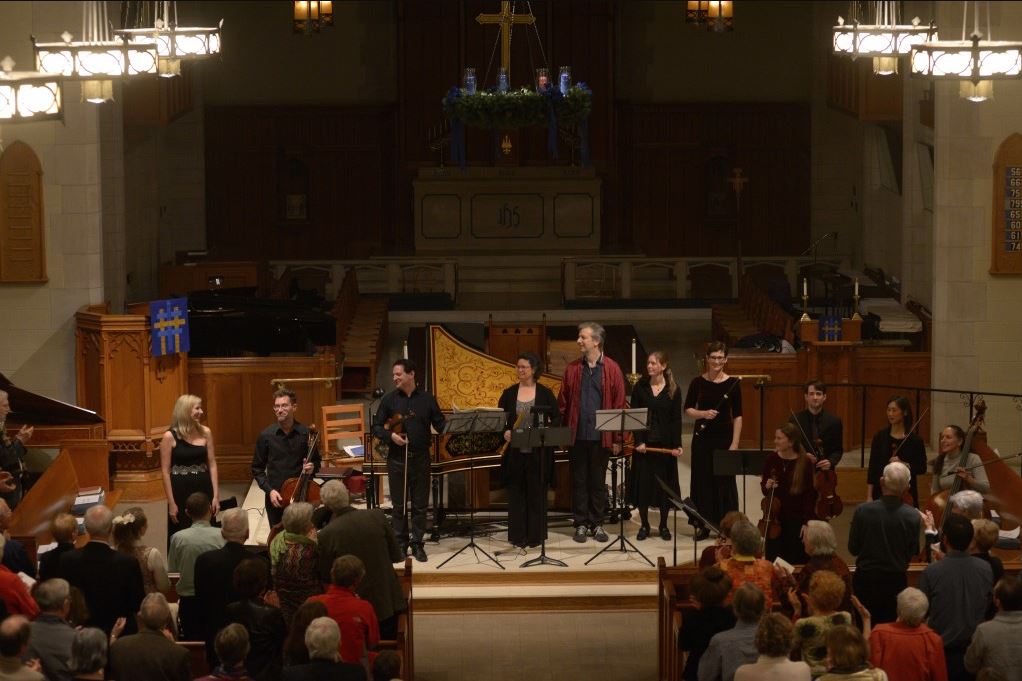 Tickets
DATE: DECEMBER 12, 2017
TIME: 7:30PM
LOCATION: 4819 MONUMENT AVE., RICHMOND, VA 23230
VENUE: HOLY COMFORTER EPISCOPAL CHURCH
_______________________________________________
Performing on period instruments, Society artists present the most sophisticated and dramatic instrumental music of George Friderik Handel – his "Concerti Grossi" or "Grand Concertos," and the third suite from "Water Music."
This concert is introduced in a 15 minute pre-concert chat with CMSCVA Artistic Director, James Wilson, starting at 7:00pm.
Date: Tuesday December 12, 7:30pm
Venue: Holy Comforter Episcopal Church
Program
:
Concerto Grosso in F Major, op. 6, no. 2, HWV 320
Concerto Grosso in G major, op. 3, no. 3, HWV 314
Handel Water Music Suite no. 3
Concerto Grosso in A minor, op. 6, no. 4, HWV 322
Concerto Grosso in D minor, op. 3, no. 5, HWV 316
Performers
:
Mary Boodell, traverso flute
Chloe Fedor, violin
Sarah Heunsch, oboe
Erik Higgins, bass
Maureen Murchie, viola
Meg Owens, oboe
Nurit Pacht, violin
Kelsey Schiller, bassoon
Carsten Schmidt, harpsichord
James Wilson, cello
Nurit Pacht & Newburyport Festival Baroque Orchestra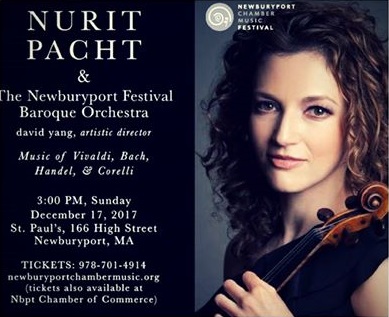 When?
Start time: Sunday 4:00pm (17 December)
End time: Sunday 6:00pm (17 December)
Where?
Newburyport Chamber Music Festival
79 State St, Newburyport
----------------Festival---------------
About
Winter Baroque Concert
Sunday, December 17, 2017
4:00pm Concert
Venue: St. Paul's Episcopal Church
166 High Street, Newbuyport, MA
The Newburyport Festival Baroque Orchestra led by Nurit Pacht, concertmaster, presents a special holiday baroque concert.